Due to the difference in production capacity, palm oil making processes will be slightly different, the standard 1-5tph palm oil making process roughly includes: raw material reception, sterilizing, threshing, digesting, pressing and filtering. Doing Company has a rich experience in the palm oil making equipment manufacturing and palm oil plant installation, today, let me introduce you the specific palm oil making process. For the making process with small processing capacity, you can refer to: How to extract palm oil at home?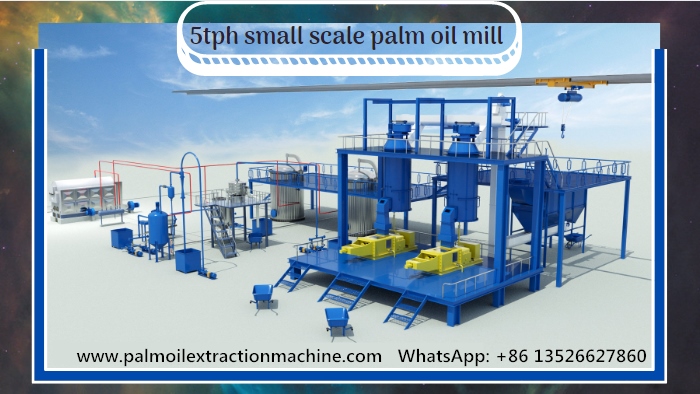 5tph small scale palm oil mill
Firstly, we should receive the palm fruit bunches timely. As we all know, fresh oil palm had better to being processed in the 48 hours after harvesting. So, it is necessary to install a raw material receive station to ensure the unity of material freshness. And it is also helpful to calculate palm oil yield by weighing the materials on this station.
Secondly, we can use the sterilizer to sterilize the oil palm fruit. In this step, sterilizer aims to make palm fruit bunches softer, which is convenient for subsequent processing. At the same time, sterilization can destroying enzymes in the flesh to prevent the free fatty acid content in the oil from rising.
Thirdly, we can use the drum type thresher to separate the palm fruits and the empty palm fruit bunches. Then we can transform the palm fruits to the following pressing station.
Fourthly, we usually use the digester and the palm oil press machine mashed the whole palm fruit into palm fruit pulp, and then palm oil is squeezed from the fruit pulp by the external mechanical force of the palm oil press machine. This step is also the most important step in the whole palm oil making process and the palm oil press machine is also the core equipment of all palm oil making machines. Lastly, we may filter the crude palm oil by plate and frame filter to remove the impurities in the crude palm oil.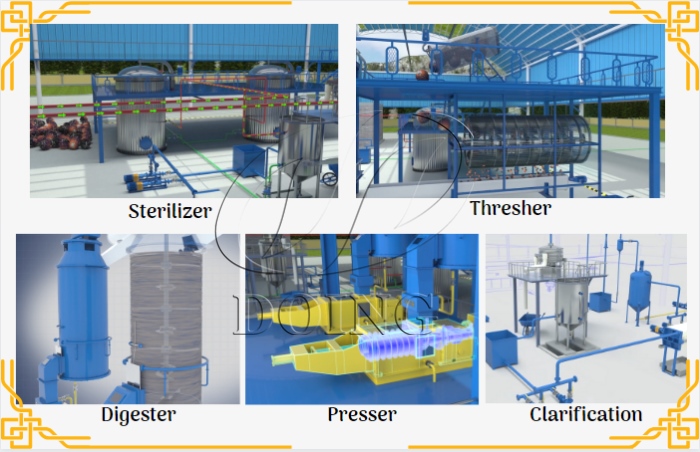 Palm oil production process
The above is the whole 1-5tph palm oil making process. As the professional palm oil processing equipment manufacturer and the producer, Doing Company can not only provide you with this small scale palm oil processing equipment, but also can offer you professional suggestions in the palm oil making processing process and palm oil plant installation. Besides, we are also process abundant palm oil refining machines, welcome to consult.