On December 20, 2021, an American customer purchased a 500kg/h diesel type palm oil presser from Doing Holdings - Henan Glory company. Because our factory has stocks of palm oil presser, we can directly arrange the shipment upon customer's request.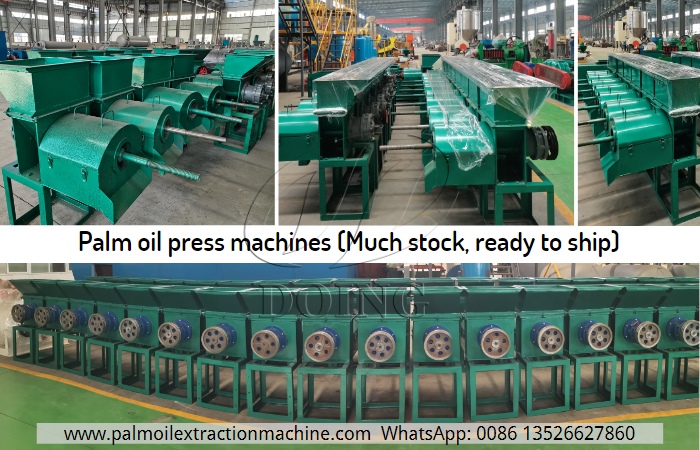 Palm oil presser in our factory
This American customer wanted to shipped the diesel type palm oil presser to Nigeria. He and his brother decided to take advantages of the abundant palm fruit raw material in Nigeria and set up a palm oil processing machine there to start palm oil production and obtain considerable benefits from it.
This customer had consulted and purchased cassava processing machine from our company, and recognized our company's rich project installation experience, manufacturing strength and equipment performance. So when he wanted to start a palm oil processing business, he decided to buy equipment from our company again.
He learned from our palm oil processing machine official website that our palm oil presser is designed by professional engineer team, on one hand, it can support both diesel and electric power supply methods; on the other hand, it can extract palm oil more efficiently and guarantee the palm oil yield. Taking into account the unstable power situation in Nigeria, he chose to buy a 500kg/h diesel palm oil presser, and on December 10, 2021, he sent a screenshot of the diesel palm oil presser equipment of our website to us and initiated an inquiry.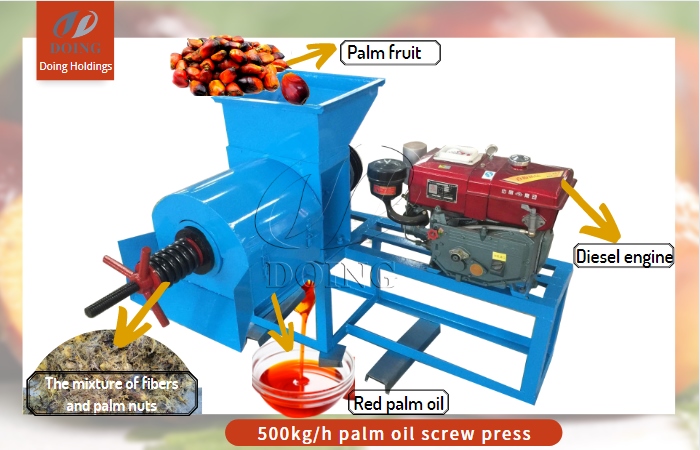 500kg/h diesel palm oil presser
The customer's inquiry period coincided with the Christmas promotions launched by our company, and we gave him a certain discount. He happily communicated with us about PI and the equipment delivery detail. Because the customer could not clear the customs by himself, we consulted the freight forwarding company that has cooperated for many years to help complete the equipment customs clearance. The customer was very satisfied with our active service and professionalism in solving problems in a timely manner, and he completed the payment to order the 500kg/h diesel palm oil presser on December 20.
As an experienced palm oil processing machine manufacturer, Henan Glory Company can not only customize the best palm oil processing machine solution according to the different needs of customers, but also offer all-around support to help customers successfully complete palm oil production smoothly. If you are interested, please contact us, we will serve you wholeheartedly!