Henan Glory company's palm oil presser is sold all over the world and have been well received by customers. Especially in some African countries, such as Nigeria, Sierra Leone and Ghana, diesel engine type palm oil press machine is very popular. Because its diesel energy supply way can meet local demand, and the palm oil press is of good quality and high oil production rate.
Some African countries such as Nigeria, Ghana, and Sierra Leone, have extremely unstable voltages. And we all know that if the voltage is unstable, the palm oil press cannot operate normally, and the oil output rate and processing efficiency cannot be guaranteed. Therefore, in terms of power system, Henan Glory took into account the unstable factors of power and adapted different power systems, including 8hp diesel engines and 4kw electric motors, which are highly efficient and energy-saving.
Customers can choose the most suitable palm oil press energy supply way according to the local power situation and their own processing needs, or they can choose to equip two engines for alternate use.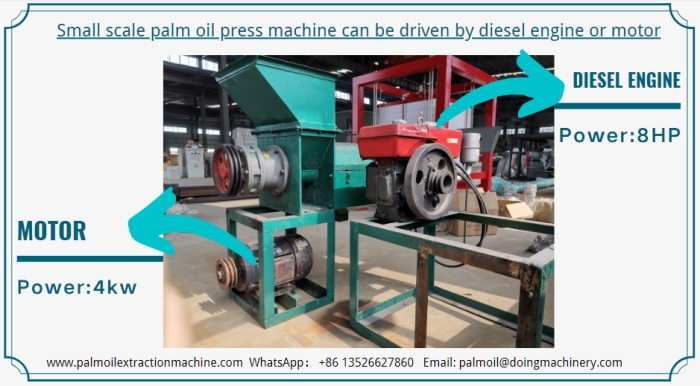 Our palm oil presser with diesel engines and electric motors
In addition, the material, design, and even the vulnerable parts of the palm oil press machine have been equipped with the most reasonable configuration, which can guarantee the long service life of the palm oil press machine. And our screw press adopts 2Cr13 wear-resistant alloy steel and the integral casting process. It's helpful to reduce the labor, material and time cost of replacing the screw press. This not only guarantees the high palm oil production rate, but also the integrity of palm kernels. Many customers have stated that our dedicated palm oil press machine performs better than those previously bought in other stores.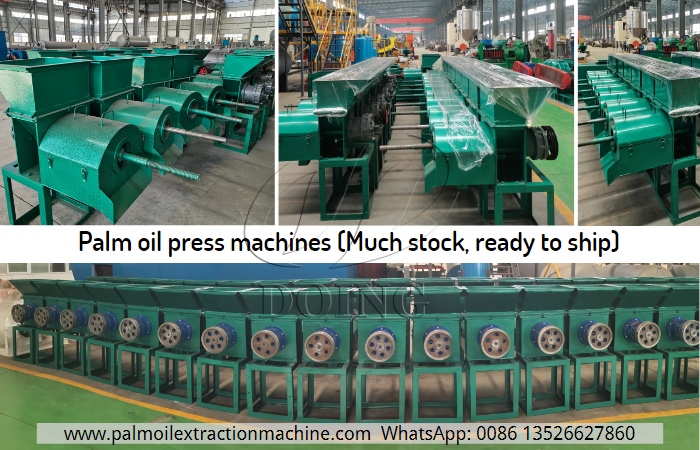 Real shots of our palm oil press
Because our palm oil press machine is very popular, Henan Glory ship many sets machines to African countries every month. Our independent factory has palm oil press machine inventory and can ship at any time. Please contact me directly if you need it!