In Nigeria, palm fruit is abundant, with an oil content of up to 46%, which is an ideal raw material for edible oil processing. In recent years, Nigerian edible oil producers have become more and more interested in starting small scale palm oil mill plant. There are four main reasons, the following is an analysis for you one by one:
1 The project has high profit and short payback cycle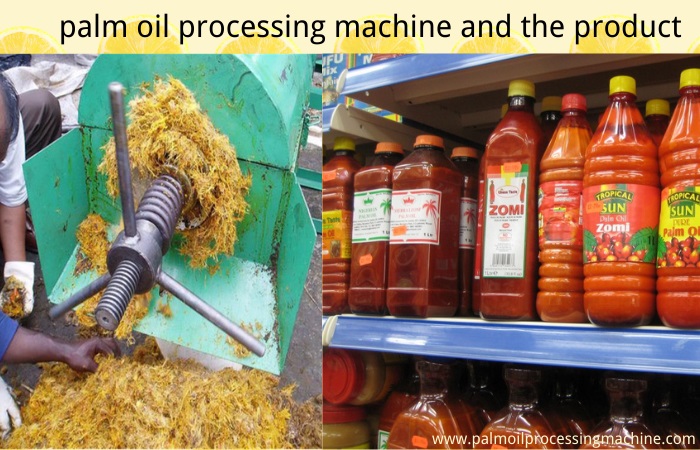 Palm oil processing machine and the palm oil on sale
Nigerian palm oil producers are generally concerned about the project's payback cycle. Taking our small palm oil press as an example, based on the daily palm oil output and by-product benefits, it will be able to fully recover the cost and even obtain considerable benefits in three days. Below is the detailed calculation.
In Nigeria recently, the FFB (palm fruit bunch) is 0.13 USD/kg, the CPO(crude palm oil) is 0.77 USD/kg, and the palm nut is 0.25usd/kg.
Then the net profit of pressing a ton of fruit bunch is calculated as follows:
154usd (get 0.2 tons of CPO) + 32.5usd (0.13 tons of palm nut)-130usd (FFB) = 56.5usd
10 tons of fruit bunch is a profit of 565usd
If you buy a small 500kg/h palm oil press(1,500usd), it will be back to the equipment cost in 3 days.
2 Small foot print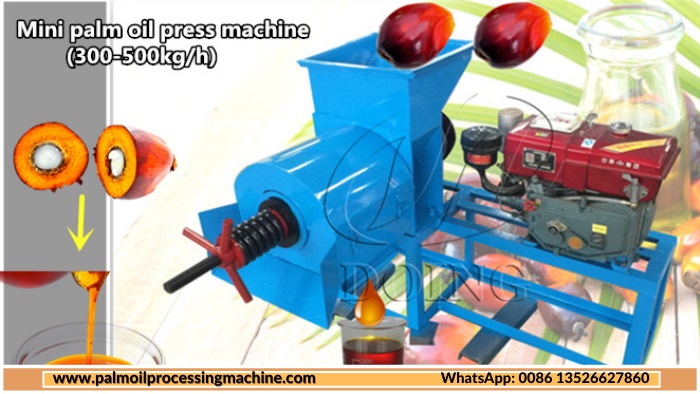 Small scale palm oil press
Compared with large palm oil mill plants, small palm oil processing equipment has the advantages of simple structure and small footprint, so there is no need to lease a large area of land to build palm oil mill plant. It can meet the production space requirements in producers' own yard and is more suitable for the area with less raw material reserves and less product demand. For example, the local palm oil project in Nigeria mainly uses palm fruit on their own land as raw materials, and the finished products are used by one or several families, which is very suitable for small-scale palm oil production business.
3 Equipment operation is simple and labor cost is low
The equipment of small-scale palm oil processing mill plants is much more streamlined than that of large-scale palm processing mill plants, basically, only palm oil pressing machine and filtering machine are needed. The producer himself and his family can complete the whole process of palm oil production. There is no need to hire another worker to operate the machine.
4 The oil palm plantation are small and scattered
The size of oil palm plantation in Nigeria range from 20-120 hectares, most of which are planted on their own land. They are often scattered in areas where local residents own land. So it is not convenient for centralized storage and processing. This factor also greatly limits the scale of palm oil production mill plants in Nigeria.
In summary, Nigerian small scale palm oil mill plants not only have easy access to raw materials, low plant rental costs, and low labor costs, but have short payback period, which is is a business worth considering. If you are also considering starting a similar small-scale palm oil mill plant in Nigeria, please consult us for relevant business information. Doing company can provide you with real-time, accurate and professional relevant information.
This is also the reason why most Nigerian customers choose to use our equipment, which has the advantages of low residual oil rate and high efficiency compared with local traditional pressing machines.