There are total 4 procedures to produce palm kernel oil in palm kernel oil processing plant: crush, cook, press and filter. Next, Henan Glory Company will elaborate on the detailed process of each procedure.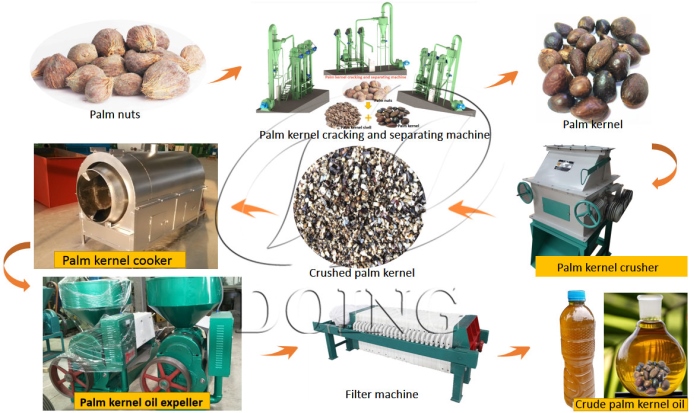 Palm kernel oil production machine

procedure one: Crushing palm kernel
The first procedure is to crush the clean palm kernel into small pieces by using the crusher, which aims to increase the palm kernel oil yield and reduce the pressure of the palm kernel oil pressing equipment. The crusher can be used as a single-machine equipment and also suitable for home use with small processing capacity.
Procedure two: Cooking palm kernel
The second procedure is the cook the palm kernel by using the cooker, which aims to bring the temperature and humidity of the palm kernel to the optimum before pressing to increase the palm oil yield. It is a very important procedure before the pressing. For small capacity, we can use drum cookers, we have 3 types of wood-burning, electric and gas, and for larger capacity, we can use vertical steam cookers. Our steam cookers has the advantage of sufficient heating power, reliable operation, wide fuel applicability and better safety performance.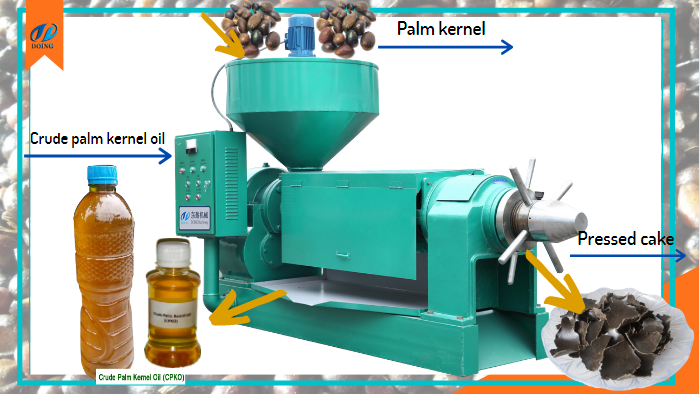 Palm kernel oil pressing machine

Procedure three: Pressing palm kernel
The third procedure is pressing through palm kernel pressing equipment. Palm kernels are very hard, and our screw palm kernel oil pressing equipment are squeezed using the short two-pole pressing process, which is more suitable for hard oil seeds. Also too long pressing time will lead to paste, so we specially designed to ensure high palm kernel oil yield, but also to avoid pasting. Our squeeze screw is forged with No. 45 steel, forged and dipped in fire, with high hardness. This palm kernel oil production machine has been well received by many clients.
Procedure four: Filtering palm kernel oil
After we get the palm kernel oil, we can use the filter to remove the impurities in the palm kernel oil, the most commonly used is the plate filter. It takes away the impurities in the gross oil by the action of squeezing, followed by filtering out part of the water. The plate filter produced by Henan Glory Company is widely used and with good performance. At this point we have the clean palm kernel oil.
The above is the complete palm kernel oil production machine line. Henan Glory Company have more than ten years of experience in the palm kernel oil equipment manufacturing industry in China. We can provide customized palm kernel oil production machine and services to meet different requirements according to the different needs of clients. If you need some palm kernel oil production machine, please contact us.