In order to meet the high production efficiency and high quality requirements of palm oil processing market, many palm oil processing plants investors choose to purchase palm oil processing machine for palm oil production. The palm oil processing machines the investors can equip to make palm oil include sterilizer, thresher, digester, palm oil expeller, vibrating screen, plate filter.
In order to help our customers better understand palm oil processing machines and their functions, Henan Glory specially made a chart for everyone to view, learn and share.
| | | |
| --- | --- | --- |
| Palm oil processing machine | Photo for reference | Function |
| Sterilizer | | Boil palm fruit and break the enzymes in fruit to avoid the increasing of FFA content in palm oil. |
| Thresher | | Separate the palm fruit from the FFB(fresh fruit bunches) |
| Digester | | Soften palm fruit and destroy the fibrous structure of palm fruit to help increase the palm fruit oil yield |
| Palm oil expeller | | Extract the palm oil from the palm fruit effectively |
| Vibrating screen | | Carry out preliminary filtration of crude palm oil and filter out the remaining fibers in the oil. |
| Plate filter | | Filter the remaining impurities onto the filter cloth and separate the impurities filter cake |
These palm oil processing machines listed above have the characteristics of high efficiency, low energy consumption, high degree of automation, and high oil output rate. If you have interests, welcome to consult us and our engineer team will customize you suitable scale palm oil processing machine based on your requirements.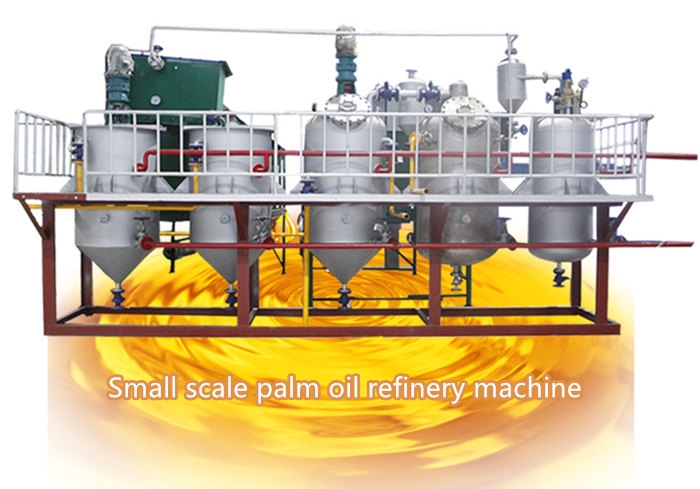 Palm oil refinery machine
Besides that, we can also customize you the palm oil refinery machine to help you refine crude palm oil to improve the palm oil quality, storage time and stability!